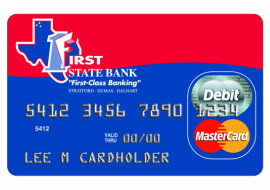 MasterCard® Debit Card
Enjoy the convenience of a credit card—without suffering the steep finance charges. Your MasterCard® debit card is linked directly to your checking account. So go ahead, make purchases, shop online, and pay bills at no charge. Behind the scenes, First State Bank is working hard to ensure your security.
Summary

Safer and more convenient than cash or checks

Accepted by most merchants

Use to withdraw cash from ATMs

Many merchants offer cash back option

Use for secure online purchases

Travel notifications

Notice of Debit Card Transactions




If you plan to travel out of our normal area or wish to use your card to make foreign purchases, please let us know.




To claim an exception, you will need:

Countries/Cities to which you are traveling.

Arrival and departure dates.

Last four numbers on the card.

Give us a call at or visit us at one of our convenient locations to claim an exception!




Keeping us in the loop will protect you from possible fraudulent activity on your account. With the growing sophistication of electronic payment fraud, there is an increasing awareness of the need for vigilance on all fronts.

You can feel confident that your transactions -- even at an ATM -- are monitored by some of the most advanced and integrated fraud detection systems available. Enjoy your trip!