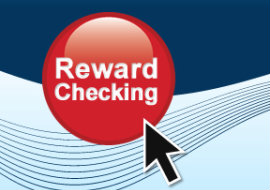 Reward Checking
There comes a time for everything. The time for ATM fee refunds is now. Reward Checking from First State Bank is a free account with no minimum balance required to earn rewards and unlimited check writing.
Experience First Class Banking and unlimited ATM free refunds nationwide with this free checking account. No kidding. We'll refund any fees that you are charged for using another bank's ATM. It's your money after all.
Summary

1.26% APY* on balances up to $100,000
1.26% to 0.51% APY on balances over $100,000 depending on balance in account*
Unlimited ATM fee refunds anywhere
No monthly service charge
Unlimited check writing
Free online banking with bill pay
Overdraft protection available upon request***
$100 minimum deposit to open (no minimum thereafter)
FDIC insured
Limit of two Reward Checking accounts per household

Qualifications:

Qualifying for rewards is so easy, you're probably already doing it! Simply do the following transactions and activities each the monthly qualification cycle:

Have at least 8 debit card purchases (POS) post and settle (excluding ATM transactions)
Have at least 1 direct deposit or automatic payment (ACH) post and settle
Be enrolled and log into online banking
Be enrolled and receive eStatement notice via Online Banking notice given by email

- Must maintain a vailid email address

- You will be required to notify the bank with any changes to your email address

- Images of checks available online

If you don't qualify during a monthly qualification cycle, don't worry! There is no penalty, and you still have a free checking account that earns our base interest rate. Plus, you get a base rate of 0.25% APY* and you get right back to making 1.26% APY* and enjoying ATM fee refunds** the next cycle you qualify.

Disclaimer:

*APY=Annual Percentage Yield. APYs accurate as of 1/1/2020. Rates may change after account is opened. Minimum to open is $100. If qualifications are met each monthly qualification cycle: (1) Domestic ATM fees incurred during qualification cycle will be reimbursed and credited to account on the last day of monthly statement cycle; (2) balances up to $100,000 receive APY of 1.26%; and (3) balances over $100,000 earn 0.50% interest rate on portion of balance over $100,000, resulting in 1.26% - 0.51% APY depending on the balance. If qualifications are not met, all balances earn 0.25% APY. Qualifying transactions must post to and settle account during monthly qualification cycle. Transactions may take one or more banking days from the date transaction was made to post to and settle an account. ATM-processed transactions do not count towards qualifying debit card transactions. "Monthly Qualification Cycle" means a period beginning one day prior to the first day of the current statement cycle through one day prior to the close of the current statement cycle. Transfers between accounts do not count as qualifying transactions. Fees may reduce earnings.

**Unlimited ATM Fee reimbursements provided only if qualifications are met within the monthly qualification cycle. Available to personal accounts only. No monthly service charge.