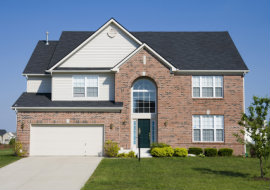 Refinance Loans
There are a number of reasons to consider refinancing your mortgage, and changing market conditions are adding to that equation. Part of our commitment to First Class Banking is taking the time to thoroughly assess your unique situation and help arrive at the best solution for you.
Summary

Some reasons you may wish to refinance include:

To lower your monthly payments

Take advantage of lower interest rates

Shorten your term

Replace a balloon payment with a longer loan term

Switch from an ARM to a fixed rate

Take advantage of improved credit rating

We now offer FHA Streamline Refinance, no appraisal required! (For qualifying borrowers)

When Refinancing Makes Sense

Refinancing your mortgage can save you substantial amounts of money ... but it costs money up front. The easiest way to determine if refinancing makes sense for you is to calculate the closing costs of the refinance loan, and how long it will take to "break even" on those costs with the lower monthly payments you receive with the refinancing.

If you will live in the house longer than this break-even point, refinancing could be a good option. First State Bank has been working closely with our community's homeowners since 1948. We can help you calculate this break-even point and assess the best strategy for you as you continue your homeownership.