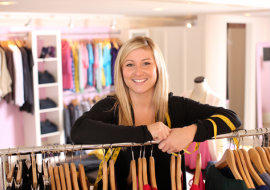 Merchant Services
FIRST STATE BANK can help your business thrive. We've partnered with First Data®, a leader in payment processing solutions, to offer you easy and affordable merchant processing solutions.
Summary

Fast access and improved efficiency

Visa®, MasterCard®, Discover® Network and American Express® – all organized onto one statement*

Quick access to your account anywhere, anytime with Online Reporting

A wide variety of advanced processing technology including wireless, Internet and PC-based options

Innovative payment options for credit cards, pin-based debit, gift cards, electronic check acceptance and more

FOR MORE INFORMATION, contact:

Stratford – 806-396-5521

Dumas – 806-935-4184

Dalhart – 806-249-5513




*Some restrictions apply on combining Discover and American Express onto one statement. Contact a Sales Representative for details.